I've been working hard making Christmas gifts. I came up with this star stitch scarf and HAD to share it with you. It works up pretty quickly and is super cozy. The star stitch has a unique look and adds a beautiful texture to a simple infinity scarf. Keep reading for all my tips and tricks to make this project simple and easy!
Learn the Star Stitch
If you haven't already, learn the star stitch BEFORE starting this pattern. A little practice goes a long way. Check out my video tutorial for a step-by-step guide. You'll be ready to dive into the pattern in no time!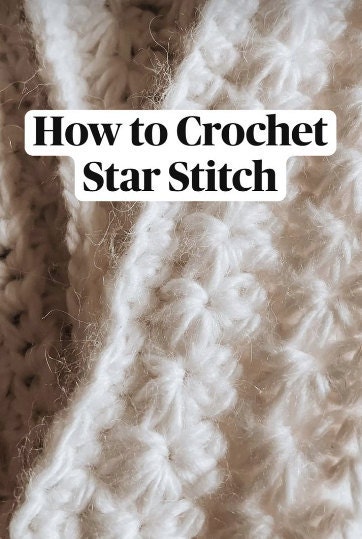 Tips for Working the Pattern 
1. Make sure your loops aren't too tight. If you're having trouble finding where to put your hook then you might need to loosen up your tension. 
2. Working in the round is a bit different than doing a flat square like in the stitch tutorial. At the end of each round, you will need to add a half-double crochet stitch (check out the pattern for all the details) where the rows meet to make your scarf as seamless as possible. 
3. I added a half-double crochet border to really make the stars pop. Feel free to skip the border (first and last rows) or substitute another stitch for your border. 
Starlight Scarf Pattern
Materials needed:
2 Skeins of Alpaca Twist by Yarn Bee in the color Lace Doilies (or substitute a medium-weight yarn).
6.5mm hook
Scissors
Tapestry Needle
Stitches & Abbreviations
Star stitch (Star ST)
Slip stitch (SL)
Half-double crochet (HDC)
Half-double crochet two together (HDC2tog)
Chain (CH)
Instructions:
CH 170
SL two ends of the chain together
Round 1:
CH 1
HDC in each stitch around
SL to finish the round
Round 2:
Chain 3
Star ST in each stitch around
HDC after the last star ST
SL to finish the round
Round 3:
Chain 1
HDC x2 in each "eye" of the star ST around
HDC2Tog in the last two stitches of the round
SL to finish round
Rounds 4-13:
Alternate between rounds 2 & 3
Round 14:
HDC in each stitch around Tie off and weave in ends
Have fun making your starlight scarf and email me at bagsbybento@gmail.com with any questions you run into! You've got this.
xoxo,
Taylor
P.S. Check out my Pinterest for more crochet tutorials and patterns.