I started my business with a tote bag of crochet supplies and a basket full of jute. However, I quickly started accumulating more supplies. Before I knew it, my bedroom was a chaotic mess of bags! The kitchen table wasn't cutting it anymore as my workspace/desk/packaging center. My husband and I have been talking about cleaning out the garage for YEARS. It's embarrassing how long it took us to finally make It happen. In the process, I got inspired to create a craft studio in my garage. Here's how I put together my studio for less than $150!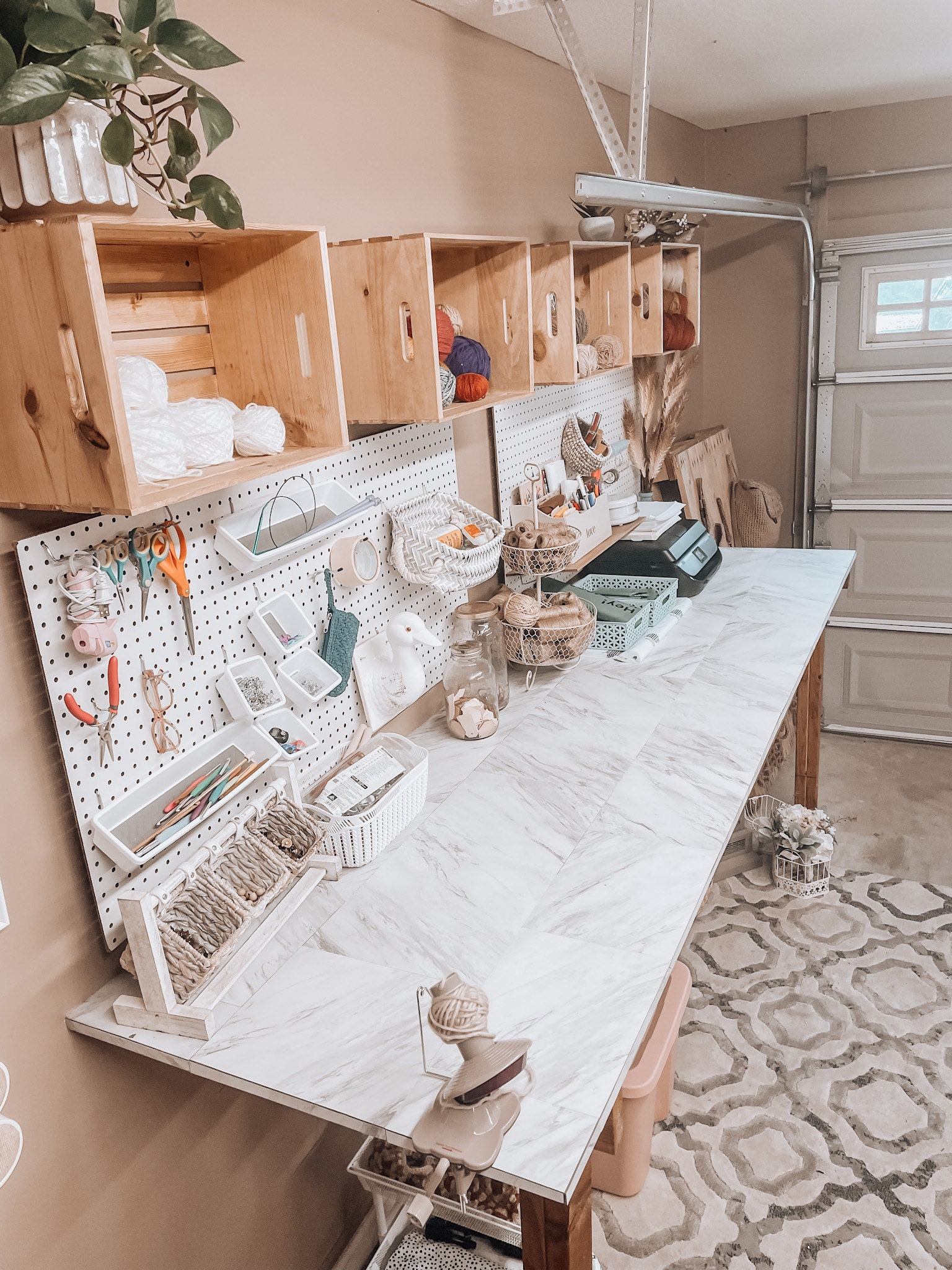 The first thing I did was make the space functional. I used an existing tool bench in my garage to make the craft table. I used danish oil to stain the legs and base of the table and covered the top with peel and stick vinyl. The danish oil cost $9 from Home Depot. I love using danish oil because you can't mess it up. You wipe it on with a rag and it slightly tints the wood. I also bought the faux marble vinyl from Home Depot for $29. I use peel and stick tiles for all kinds of things! They are super cheap and can make walls, floors, and tabletops look fabulous. All in all, I have a gorgeous craft table for less than $40!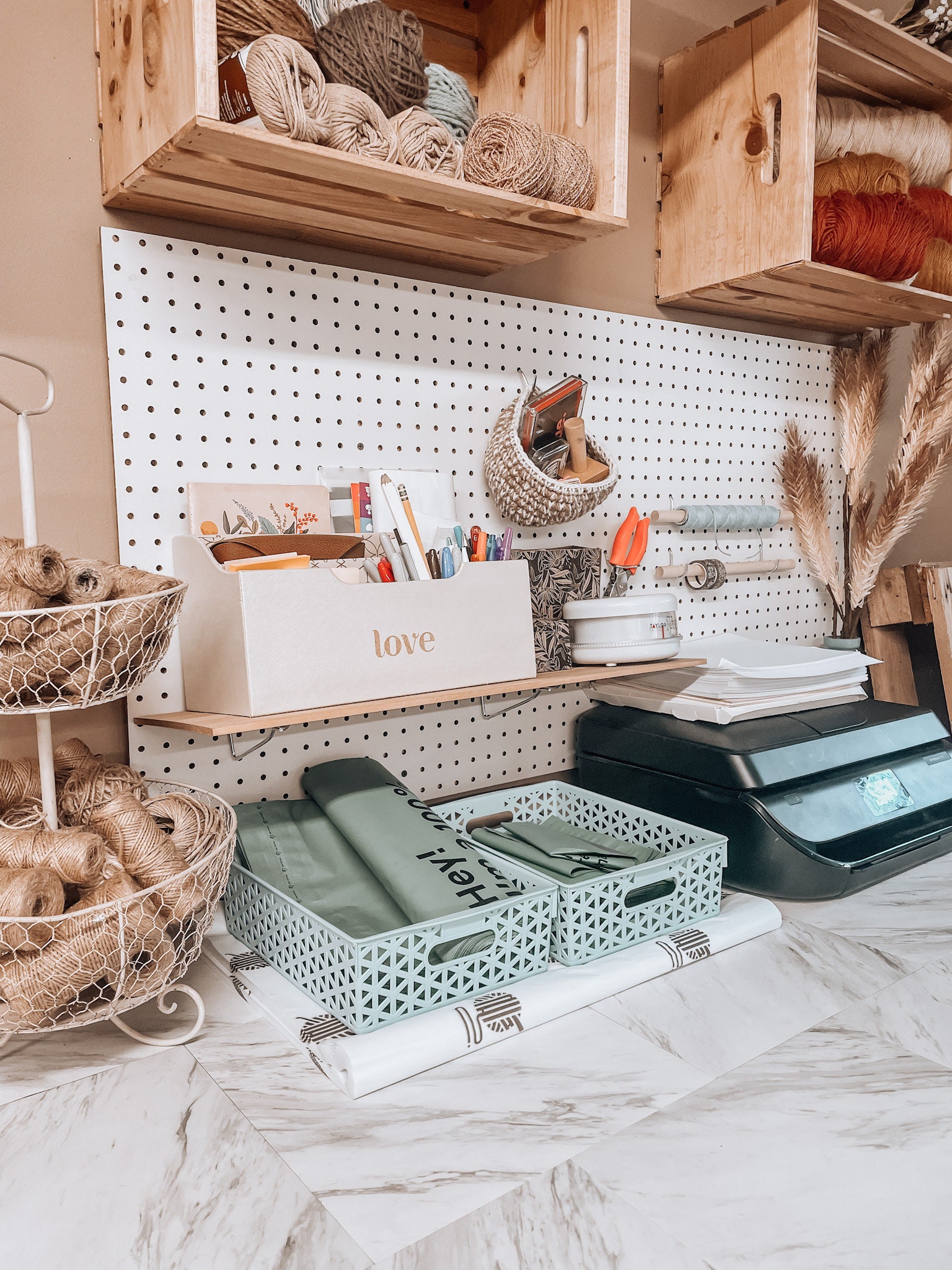 The next part I focused on was storage. I got two pegboards from Home Depot for $10 each. They also had a pegboard starter kit with a variety of hooks and accessories for $11. I needed some wood to mount the pegboards to the wall ($8). Then, I went to Dollar Tree and purchased plastic containers to hang on the pegboard. You can buy pegboard accessories on Amazon but making my own from the Dollar Tree saved some serious cash! I also found some containers and baskets to hang on the pegboard at home. For a total of $50, I had two pegboards and lots of storage!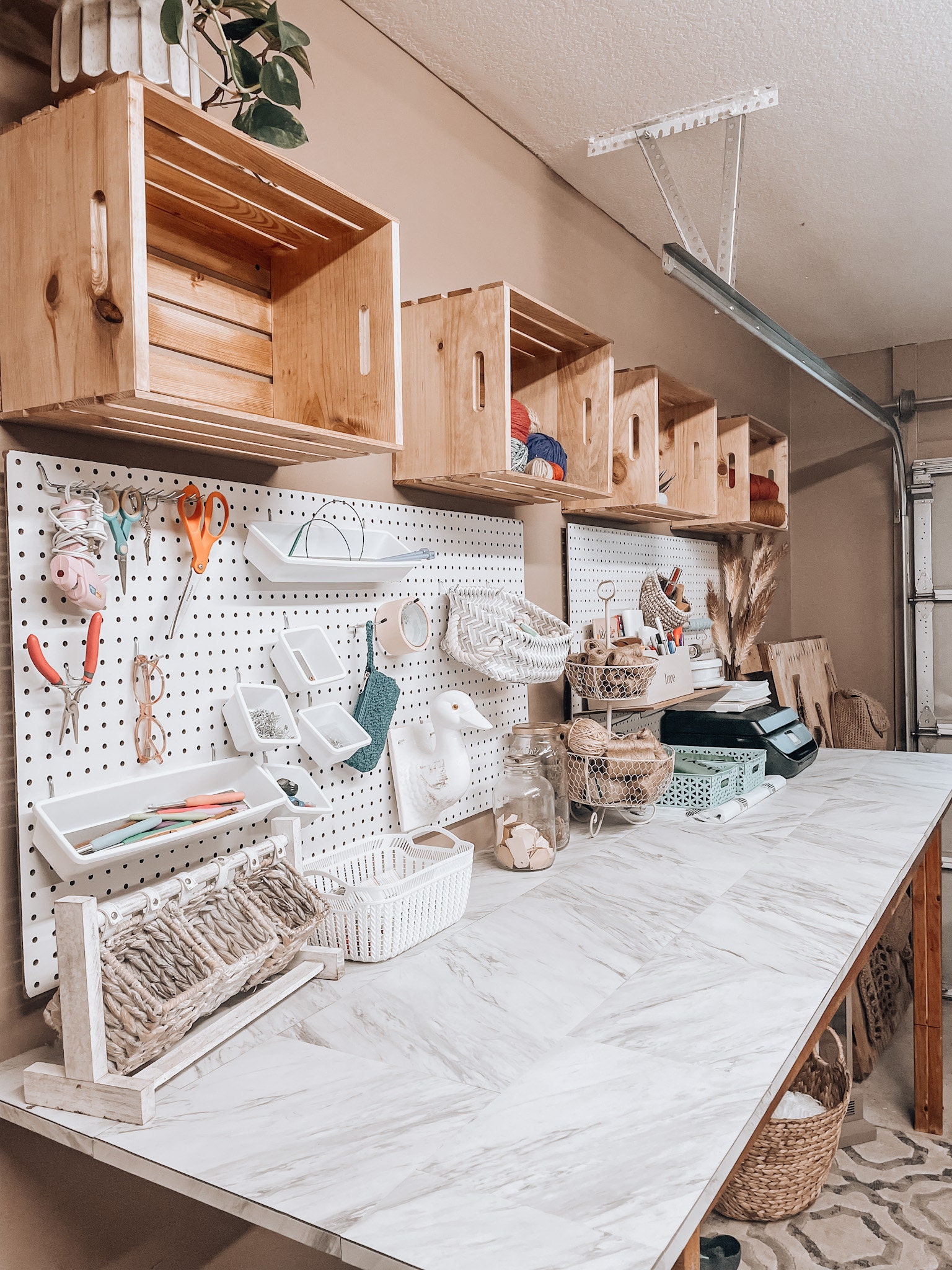 I wanted to find a creative way to store yarn. I found four unfinished wood crates at Joann for 9.99 each. I stained them with the danish oil I used on the table and hung them above the pegboards. It created yarn storage that was easily accessible so I could see what I have. I can also use the crates as shelves and put things on top. $40 for four gorgeous shelves and yarn storage!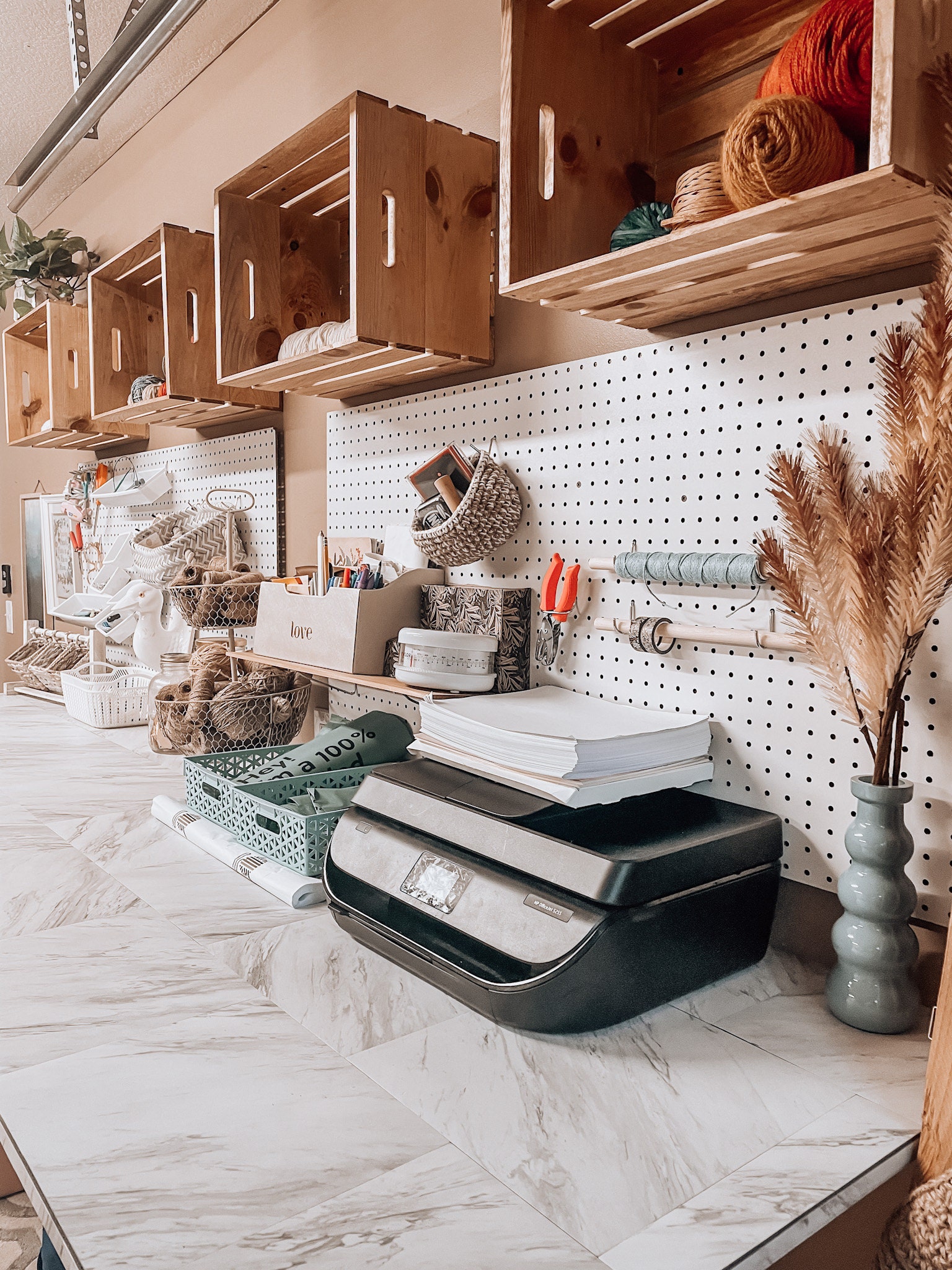 After I organized all of my supplies, it was finally time to add cute decor! I grabbed a blue vase from Joann for 5.99 and a few stems of greenery for 2.99 each. I found the rest of my decor in my own house! I love "shopping" in my own home. I used an old-tiered fruit bowl to store jute. The large mason jars were just sitting in a closet unused. The prints were things I've collected but didn't have space to hang. The porcelain duck was my great-grandmother's and I've been trying to find the perfect place for it. I had SO much fun putting all the little personal touches in my new space. 
I'm extremely happy with my studio! It's functional and special at the same time. Here's proof you don't have to spend a fortune to have a beautiful craft studio. Take this as a sign to create your own space. You deserve it! 
xoxo,
Taylor
P.S. Check out the shop to see what I create in my craft studio!